For this episode of our street lighting history series, I would like to "turn back time" to February 2016. No, Cher didn't do anything special on that day, or at least I think she didn't. Sorry to disappoint.
Street Lighting Saga 2015-2016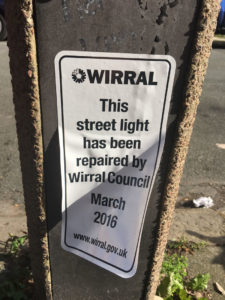 Instead, on the 16th of February, 2016, Cheshire Today reported that "Wirral Council has announced immediate plans to tackle street lighting repairs and has put in place a program of repair that will see all defective lights across the borough fixed by the end of April." This announcement was made by Stuart Whittingham, Wirral Council Cabinet Member – Transport and Infrastructure. The statement followed a winter in which numerous Wirral residents were left with severely under performing street lighting throughout many of the dark evenings. The failure of the council to repair fixtures in several areas was covered in a variety of local papers during those winter months. It seemed like very poor timing indeed to announce that the council was going to get serious about street lighting repairs repairs once the evenings were starting to lighten once again.
Will 2016 Be Better?
Fast forward to 2016 and we are once again heading into the dark winter months. As I write this piece it is late November. Once again there are more than one hundred street lights out across Wallasey alone. There are also more than fifty LED lights out on the dual carriageway linking Moreton-Bidston-Wallasey.
I have registered a Freedom of Information request to try and find out the total number of defective lights across Wirral. This will only show the ones the council knows about of course. My guess is that the true figure will be much higher than whatever number the request eventually returns. The reason for this opinion is that I report a lot of defective lights. I know, get a more exciting hobby… Anyway, the council website informs you if there are any other lights already reported on the same road to prevent duplicate fault reporting. What I have seen, based on information from their website, is that the council only knows about a small fraction of broken lights. My guess would be ten percent of the true total, perhaps even less. It should be interesting to see what numbers the FOI request turns up.
Unanswered Questions
This situation raises a number of questions. Were absolutely no lessons learned from last year? Could no one see that failing to have measures in place to monitor the condition of local street lighting might lead to a problem once the dark nights moved in? If the council did realise that another problem year was heading their way, what did they do to mitigate it?
I accept there have been cuts. Some would argue those cuts have been severe. Yet I do not accept this easy excuse as the root cause of current problems. The problem I have with the "lack of funds" viewpoint is that other Metropolitan councils have managed to keep the lights on. Those councils have faced similar cuts. What is different about the situation on Wirral that we seemingly cannot repair our luminaires?
Incidentally, other councils have published figures about the cost to run a street light for a year. The figure is surprisingly modest. Typically a street light costs £45-£65 per annum depending on the size of the fitting (Shropshire Council).
What are the Real Priorities?
Recently Wirral council has spent increasing amounts on recruitment of consultants, lobbyists and public relations executives. This recruitment runs alongside a whole slew of other arguably unnecessary expenses, a council newspaper for approximately £250k being amongst these. This may indicate that lighting is just not a council priority. Street lighting helps avoid accidents, reduces crime and fosters a sense of security. A solid first step to lowering demand on the NHS and police services must surely be to turn the lights on and keep them on?
Perhaps this year Stuart Whittingham will take "special action" before March to reduce the backlog of repairs? Councillor Whittingham may have been sincere when he apologised "to residents for not responding sooner to their concerns" in early 2016, but actions speak louder than words. Over the coming months we will see if meaningful action is taken or just more public relations sound bites are trotted out from "consultants" and spin doctors.
Perhaps we should be inspired by a story from the BBC. A man in Wales paid the local council to turn street lights on in his area. The cost? Around 15p per day. The cost of electricity has now increased since the story was published in 2008 of course. Also, the price each council pays for electricity is different. Yet this story does illustrate just how cheap it can be to keep the lights on if the will is there. If Wirral is so short of cash, perhaps one of the many council executives will contribute from their £50-100k pay packets, or even the chief executive might consider a small donation from his near £200k salary? It is all about priorities.